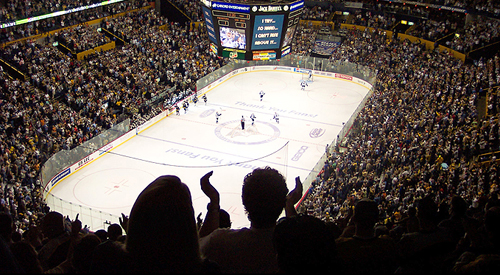 The Spoken Sin in the NHL
May 22, 2009
With a slew of incidences miring the game of hockey into a fray of apologetic dialogue, the NHL has been rife with questions pertaining to the spectrum of violence and pugilism in the game.
Nothing piqued this interest or disdain more so than the nuisance of provocative New York Rangers winger Sean Avery, who had spent time enrolled in anger management courses to curb his on-ice shenanigans.
Then there were games in which both teams attempted to replicate scenes of the Broad Street Bullies or Big Bad Bruins. Then there were controversial attempts to impose supplementary discipline. And then the playoffs began, which have not had any shortage of tempered plays materializing into suspensions.
So while we sifted through sins of the game, which have either been rightfully exposed or mistakenly hyperbolized, there was a sentiment of ethics being entertained to make everything kosher.
But one transgression still remains, either knowingly condoned by the collective consciousness of hockey's 30 main constituencies or the fact that the unfortunate foci in hockey have been solely placed upon disciplinary sanctions.
It's delivered through editorial sound bites, too; not through openly denounced hits to the head, although it may have the same effect.
It's those commentators who abuse their power – and those listening on the other end of the wire – that treat their seat in the NHL not as the bird from whom we obtain instant analysis, but as a forum to flaunt their bias.
Granted, they may be catering to a different audience. Chris Zelkovich, sports media critic of the Toronto Star, realizes that many sportscasts often employ certain personalities to befit their market.
"There's a difference in broadcast when you listen to them. I think the difference often depends on how many tickets are being sold and also on the location (of the team). For example, in Canada you can listen to a Leafs broadcast or Canadian broadcast and I think it wouldn't be hard to say they're homers," he said.
[php snippet=1]
"However, if you compare them to a broadcast in, say, Boston or Washington, they pale in comparison as far as homerism goes. The smaller the market, the more they seem to basically advertise the local team."
There are advantages and shortcomings to shaping a sportscast around a voice that may not be reporting the game objectively, Zelkovich said, or if there is a surfeit of superfluous drivel being spewed by any of the commentators on the job.
"There's definitely a problem with credibility," he said. "If the guy calling the game is only telling the story from one side, then it's not a very credible broadcast.
"Now on one hand, the hardcore fans love it. The complaints I get from hardcore hockey fans or baseball fans are that the broadcasters are too negative; what the hardcore Leafs fan or Blue Jays fan wants is the broadcaster to tell them how good these players are.
"Where it hurts (the league) is when the casual fan or fringe fan … tunes into a broadcast that is obviously biased; I think you're risking losing a lot of them."
That could potentially be as harmful to the league's public appeal as any highlight reel showcasing a derisive hit or check-from-behind. And there is definitely enough reason for a fan to develop some sort of prejudice against the NHL if a commentator acts like someone partaking in water cooler fodder.
Of course, there are contrarian effects to be had if the broadcast is playful, Zelkovich said, and it may actually bolster viewership if it's delivered in an appropriate market.
Randy Moller, play-by-play man for the Florida Panthers, is probably the most notable individual who has veered away from traditional broadcasting like that which is seen on CBC in order to enliven the viewing experience for the fan.
He has adorned many of his signature goal calls with contemporary allusions to films as a way to transcend the rigidity of some games. From references to Forrest Gump – "Run Forrest, run!" – to obscure films one may feel obligated to research, Moller creates a jovial atmosphere to which even the average fan may relate, which is beneficial to a non-traditional hockey market like Florida.
"I find a guy like (Moller) fun to listen to. If he's just having fun and he happens to connect with your sense of humour, I think that could end up being quite entertaining," said Zelkovich.
But there are still a finite number of humour-driven calls before the act may lose its steam.
"If it's not your sense of humour, you might find it rather annoying.
"For the most part, though, I have no problem with guys who can do it – and do it well. I've only heard snippets of what (Moller) does and I found it quite funny, but I'm not sure how much longer I would find it funny.
"As long as the game is portrayed with a bit of objectivity, then fine. Go ahead and do it."
The case is depicted differently when listening to Jack Edwards, announcer for the Boston Bruins on NESN. His broadcasts are wrought with a terrible propensity to laud the Bruins' efforts toward any given cause, allowing his inner fan to resonate on television screens within the New England area code – although by the time one is finished listening to a period of his vociferous bias, it may seem as if he was wearing a Bruins jersey to filter his commentary.
In the Bruins' 3-1 triumph against the Montreal Canadiens, for instance, Edwards saw a fight unfold between Boston forward Shawn Thornton and Canadiens rookie Alex Henry, whom Edwards declared had had his striped jersey fit "perfectly because (Thornton) just rearranged the appearance of this guy."
However, due to the network's concentrated audience in and around Boston, it may not matter to Edwards or NESN. Like Don Cherry, the firebrand on CBC's Hockey Night in Canada, each is fully aware of what is endearing to a particular group of people and how to present themselves accordingly.
"I give him (Cherry) full credit for being able to command an audience," Zelkovich said. "When he gets up there (on Coach's Corner), he's talking to a bunch of guys wearing hockey jackets in a bar in Saskatoon. He appeals to the common guy; he appeals to the guys who hang out around the arenas. You see them drinking the bad coffee, smoking cigarettes and they sort of live their whole lives there. He's managed to find that constituency.
"But then you ask the question, how many new fans is he creating? How many new viewers? I'm not entirely sure he scores so high on that side as he does on the other.
"I think, in many ways, he is preaching to the converted. I think a lot of newcomers to the game or casual hockey fans are turned off by his shtick and his constant promotion of the other side of the game, the fights and the retaliation of hockey."
Zelkovich believes if we are to blame anything for the increase of such biased accounts of hockey games across North America, it should be directed toward the zeitgeist.
"I think like most things with the media and newspapers in general, they all seem to be going in one direction, which is more and more outlets. There are more and more channels, more and more newspapers, more and more websites, and more radio stations.
"And I think what we're seeing in most cases is probably less objectivity and more attempts to make a splash – in other words, to speak louder so that you can speak above the huge crowd of media covering a game.
"I don't think we're entering any Golden Age here."
[php snippet=1]