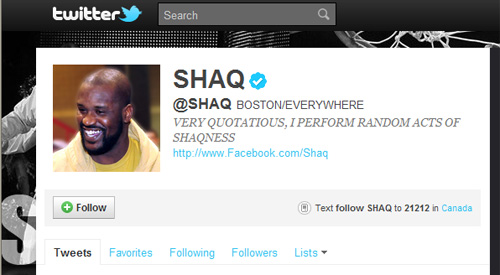 A guide to life in the sports Twitter-verse
November 22, 2011
Times have changed in the realm of sports media and discourse. Sports news breaks in an instant and therefore requires instant analysis, commentary and reaction.
As Marshall McLuhan said, "the medium is the message." Twitter is the medium.
Sports Illustrated?  Obsolete. A once-per-week distribution is far too slow to keep up in these fast-paced times. Additionally, senior writer Joe Posnanski, at one time one of the most respected men in the industry, has been compromised by the Jerry Sandusky scandal.
ESPN? Irrelevant. Its talking heads are occupied by NFL drivel while its "insiders" are consistently beaten to the scoop by everyone from local newspaper writers to Fox Sports' Jay Glazer and Yahoo!'s unpronounceably-great Adrian Wojnarowski. Where once it relied on outstanding journalists, the self-proclaimed Worldwide Leader now depends upon irritants Skip Bayless and Colin Cowherd.
How the mighty have fallen. Once they were titans in their field. Now SI and ESPN resemble Michael Jordan in a Wizards uniform, hanging on for dear life, tarnishing a once-proud legacy.
The other sports media outlets understand the challenge: adapt or perish.
Welcome to the Sports Twitter-verse.
[php snippet=1]
A Beginner's FAQ
How do I begin my immersion into the Sports Twitter-verse? 
Log in and create your own Twitter handle. Stay simple. Feel free to use your name, your initials, your nickname, your favorite numbers – it all works. The more thought you give to your handle, the more likely you'll be sneered at. In all likelihood, that'll happen anyway. There's a lot of sneering in the Twitter-verse.
Next, follow all of the analysts and columnists on TSN, ESPN, Fox Sports, Yahoo!, SB Nation, The Good Point, SI – and click on each of their names and follow everyone that they're following. Follow all of the players on your favorite team, too, and maybe a couple of players on different teams. Follow all of your favorite team's minor leaguers. Celebrities? Good enough. Follow them. If anyone begins to follow you, follow them back. It's the considerate thing to do. Unless they're following you in real life. In which case: run.
Okay, I'm ready! I'm following 584 people and I have 21 people following me. What should I tweet about?
Get your feet beneath you by tweeting your current thoughts and actions. Are you going to Tim Hortons for coffee? Tweet it. Is there a song in your head? Tweet it. Simple.
There's no need for you to do all the work in tweeting, either. Go through everyone else's tweets. Agree with any of them? Hit "retweet" and bam! Your followers just received someone else's wisdom. Nicely done.
After several days of non-stop tweeting, you'll be ready to snap into action when enormous sports stories break, like Jeremy Hellickson winning the AL Cy Young or the Orioles changing their logo back to the cartoonish smiling bird. Whatever is happening right now is the most important issue ever. Now is the time. Let your feelings be heard.
—
Do's and Don't's in the Sports Twitter-verse
DO react honestly and immediately. Why censor yourself? It's your opinion. Share it. If more facts come out in an hour, hey, you can just tweet your changed opinion in an hour.
DON'T be star-struck. In the Sports Twitter-verse, you and everyone else are on even footing. Jose Bautista just belted another home run? Congratulate him via tweet. Confused about why Keith Law is hating on Adeiny Hechavarria? Ask him directly. You have a direct pipeline to your target. Use it.
DO respond to people personally. If someone calls you out, let him have it. The Sports Twitter-verse is the perfect place to flame some idiot with a selection of sizzling rhetoric.
DON'T wonder if someone else is being sarcastic. If they took the time to tweet about it, they must be utterly sincere in their opinion.
DO speculate on every rumor. If the Nationals are considering offering Albert Pujols a contract, snap off a blind guess of what this would mean for the NL East. Talk trash to Phillies fans. Tell the Cardinals management how much they suck. Brag that the Nats are now World Series favorites or snipe that they overpaid and gave Pujols too many seasons on the deal. Your opinion must be heard, and it must be heard immediately.
DON'T proofread your tweets. The basic gist will come across just fine.
—
The Sports Twitter-verse is an exciting wilderness of reporting, conjecture and typos, combining the best features of human emotion, evolution, fanaticism and anonymity. And every now and then, you might find a link to a funny YouTube video. That's an aspect of life that, unlike C.J. Wilson, is far from overrated.
[php snippet=1]