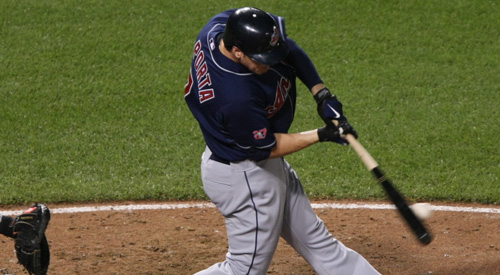 The Former Franchise: Matt LaPorta
March 21, 2012
There are a lot of reasons why a top draft pick fails to meet expectations. Injuries play a part in most cases, an overestimation of abilities in others. The inability to handle the pressure can often play a factor, as could unfortunate clashes between said prospect and the management he works for. But sometimes, there is no answer.
Sometimes, there's a high draft pick who powers through the minors, stays relatively healthy and has little-to-no locker room issues, but still fails to make an impact in the major leagues. That player seemed destined for big things, and is sometimes so highly coveted that teams will use his acquisition as a way to please the fan base when trading an established star. But when that prospect doesn't live up to his end of the bargain, it makes the team look bad and the fans lose patience. That's the story of Matt LaPorta.
There's really nothing that could have predicted a slow start to LaPorta's big league career, other than the fact that shit happens. An alumnus of the Florida Gators, LaPorta was the SEC Player of the Year in his senior year. He was the seventh-overall pick in 2007 and in his first professional at-bat in the Rookie League, LaPorta went yard. He played in the Arizona Fall League later that year and ended it tied for the league lead in home runs.
His stock (and the hype that surrounded it) only skyrocketed at the beginning of the 2008 season. He started in Double-A, and in his first game for the Huntsville Stars, LaPorta launched a grand slam. He showed power in every stop and seemed destined to continue that into his seemingly eventual big league debut. 
[php snippet=1]
By June of 2008, LaPorta led the Southern League with 20 home runs. By July, LaPorta left the Southern League altogether.
Like many top prospects, LaPorta was used as bait by his home team. Intent on winning in the present, the Brewers shipped LaPorta and others to Cleveland in exchange for CC Sabathia.
"The expectations were very high [for LaPorta]." says Ryan Richards, the editing manager of Lets Go Tribe at SB Nation. "LaPorta was one of the highest-rated prospects in baseball…it was expected he became at least a solid corner outfielder."
Kyle Lobner, who writes for the Milwaukee Brewers-themed blog Brew Crew Ball, recalls the necessary evil that was trading LaPorta.
"[The trade] had less to do with LaPorta than it did with Sabathia. It was tough to part with the organization's number one prospect, but the Brewers were in pursuit of a World Series and getting an elite pitcher significantly improved their chances of getting there."
Both teams were happy with the deal. Milwaukee got their ace (who ended up pitching brilliantly for the Brewers, winning 11 of 17 starts and almost single-handedly willing Milwaukee to their first postseason birth since 1982) and Cleveland, who was ready for a youth movement, got the blue-chip hitting prospect every team covets and every fan drools over.
But much like Homer Simpson when he finds out the donut he desires turns out to be sans sprinkles, the drooling eventually stopped.
In a recent Fangraphs article, the question was asked if Matt LaPorta is a Quad-A player; too good for Triple-A, not quite good enough for the Majors. When looking at his stats in both leagues, the distinction seems accurate.
Hitting home runs, his bread and butter in the minors, came to a screeching halt each time he was called up to the big time. He struck out more than he should, didn't walk often and never played defense well enough to justify a spot on the bench. Each time he was sent down there was a large sense of disappointment in both the fans and management. He'd find his way back up occasionally, but the story would just repeat itself.
"Sometimes a player looks better on the field than his numbers indicate, and so you have hope for the future." says Richards. "In this case, Matt looked worse than what the numbers said. His at-bats just didn't give you the impression that he was going to figure things out. He has an option year left, and he'll go to Columbus (Cleveland's Triple-A affiliate) in the hopes of fixing his swing. But this season is probably all the Indians (and its fans) are prepared to give him. If he doesn't break out this season, he won't be an Indian next year."
A harsh realization for someone who was once the top prospect in two different organizations, but that's just the way it works sometimes. LaPorta is an All-Star in Quad-A; it's just too bad that level of ball doesn't exist.
LaPorta is only 27, so there's still plenty of time to fix his major league ailments. But time is running out, and impatience is surely growing in the Cleveland front office.
"There's reason to believe he can still be a productive player if he can stay healthy and is given an opportunity to perform." says Lobner. "His career hasn't gone exactly as we may have expected a few years ago, but it's still far from over."
The career may not be over, but the chance for LaPorta to be a franchise star seems to be. LaPorta's career is a reminder that even if everything seems to be going right, the wrong thing still may happen.
If he fails to make it with Cleveland this year and finds himself on a new team, LaPorta can hope his fortune falls under the law of an old English idiom: third time's a charm.
[php snippet=1]