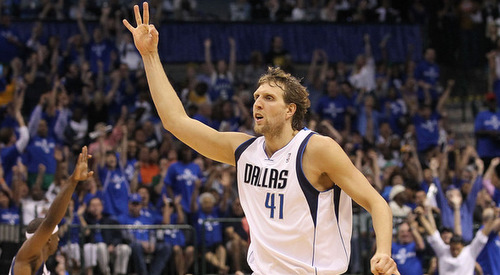 The Good Point's best athletes of 2011
January 4, 2012
For those who are deemed superstars, 2011 was an ugly year.
Sidney Crosby suffered a concussion that has limited his playing time and perhaps, the rest of his career. LeBron James, one year after humiliating Cleveland and becoming a villain, crumbled at the worst time. Peyton Manning was forced to spend the NFL season on the sidelines in street clothes, thanks to neck surgery.
In the words of Queen Elizabeth, it was annus horribilis.
But while the troubles of some have become hot topics, there were several athletes who stood out this year. They overcame detractors, injuries or were simply phenomenal.
The Good Point celebrates those who inspired, dominated and achieved.
Here are the Athletes of The Year for 2011:
*** 
[php snippet=1]
Dirk Nowitzki – Power Forward with the Dallas Mavericks (NBA)
Selected by Mark Milner
In Mark's words:
Late in Game 6 of the NBA Finals, Dirk Nowitzki hit a jumper to extend Dallas' lead to 10. After hitting the shot, he raised his fist and the series was all but over.
Dallas' victory over the Miami Heat wasn't just an upset, it was a vindication. Not just for 2006; not just for the arrogance shown by Miami the previous summer, but for Dirk, who had always been labeled a choker in the postseason.
Gone are the memories of him falling apart in the 2006 Finals or the Mavericks being upset by the eighth-seeded Warriors the same year Dirk was named the league's MVP. On basketball's biggest stage, he played some of the best basketball of his life. He blew away his critics and cemented himself as one of the best talents of his generation.
If he ever has to buy his own steaks in Dallas again, it'll be too soon.
***
Dustin McGowan – Pitcher with the Toronto Blue Jays (MLB)
Selected by Eric Rosenhek
In Eric's words:
Dustin McGowan last threw a Major League pitch in 2008. Then he hurt his shoulder, followed by his knee, and was unable to play for three years.
On September 6, after many procedures and rehab stints, McGowan returned to the Majors. He threw 74 pitches – 44 strikes – over four innings against the Boston Red Sox. McGowan's outing also included five hits, three earned runs, three walks and five strikeouts. He would go on to appear in four more games (all of which he started) and finished the 2011 season with a record of 0-2. In those four starts, McGowan held opposing batters to a BAA of .247.
Given the injuries and setbacks, no one would've faulted McGowan for deciding his physical health was more important than playing professional baseball. He could've retired to his hometown of Savannah, Georgia, knowing he at least managed to play in "The Show."
But to his credit, as well as the Blue Jays who never gave up on him, McGowan persevered. His inspirational recovery has now allowed him to stay in The Show for a little while longer.
Sometimes, heroes aren't always at the top of the stats sheet.
***
Aaron Rodgers – Quarterback with the Green Bay Packers (NFL)
Selected by Rob Boudreau
In Rob's words:
Aaron Rodgers has only lost one game this calendar year, a meaningless game against Kansas City. Rodgers began the year by taking his Green Bay Packers from an improbable wild card team all the way to become Super Bowl champions, being named game MVP and a Pro Bowl member as well. He's ending the year with his team in first place in the NFC North and the top contender for Super Bowl XLVI.
With nearly 4,643 passing yards and 45 touchdowns against just six interceptions, Rodgers has a 122.5 QB rating, which will only increase his lead on the all-time list for that category.
That kind of year doesn't come around too often. Few in the history of any sport can remain as consistent and dominate the competition as well as Rodgers has, and he's only 28 years old.
Near the end of the Brett Favre era, the Green Bay Packers went from perennial contenders to hit-or-miss team that was hard to predict. Rodgers was able to step into the quarterback's role and stabilize the team, ensuring that the franchise and fans didn't have to go through a lengthy, uncomfortable rebuilding process like so many other franchises do.
He's already achieved several of football's top single season honors. All that's left now is for him to start breaking career milestones, which he'll likely do sooner than later.
***
Tim Thomas – Goalie with the Boston Bruins (NHL)
Selected by Austin Kent
In Austin's words:
Tim Thomas isn't the sexiest choice for any sort of "athlete of the year", nor is he the easiest/only choice. Hell, in some cases, he's not even the clearcut goalie option on his own team… all of which combine to make him a must-have for TheGP's list of 2011's best athletes.
When the 2010-11 NHL campaign started, Thomas was a veteran tender poised to ride out the twilight of his impressive career as the aged mentor of an up-and-coming Tuukka Rask. What happened next not only shocked hockey fans from coast-to-coast, but pushed the Boston Bruins to a level they hadn't touched since 1972.
Thomas, seemingly overnight, had risen from the depths of decline and reclaimed his status as one of the NHL's top goaltenders. The only thing is, he didn't exactly bounce back from a down year as much as he simply resurrected after a year of typical descent into looming retirement. Over the course of the season Thomas not only put the Tuukka Rask Preparation Plan on the back burner in one final hurrah, he led the Original Six franchise all the way to the Stanley Cup.
What's most impressive about the goaltender's season though, isn't the Vezina Trophy he won or even the champion, not even the stat line that stands out as the best of his All-Star career. What's most impressive is that he emerged, at age 37 a victorious old man in a young man's game. Not just good for a veteran, but mind-numbingly, game-changingly phenomenal. The type of good that leads directly – not indirectly, not partially – but directly to a Stanley Cup.
Plus, the mustache.
[php snippet=1]