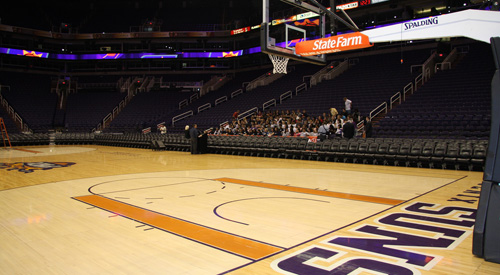 Tony Delk's 53-point anomaly
June 27, 2011
It's a typical night in early December, the 2000-01 NBA season is still very much fresh and full of possibility. The calendar reads Monday, Dec. 11 when the Chicago Bulls play host to the visiting Phoenix Suns, eventually falling 86-84 to their guests.
Not much stands out about the game that would set it apart from the remainder of the year. Clifford Robinson, still with the Phoenix franchise at the time, drops 24 points in the victory while Ron Mercer leads all Bulls with 26 in the loss.
Fifth-year Suns guard Tony Delk plays 26 minutes, scoring 12 points on seven shots. What the basketball world doesn't know then is the opportunity that would present itself in the very next game.
Fast forward less than a month later to Jan. 2, 2001. The same Suns team travels to Sacramento to play the Kings, losing in overtime 121-117. As far as box scores are concerned, this one was considerably more interesting. Jason Kidd scores 12 points with 17 assists in the loss while Vlade Divac and Peja Stojakovic combine for 67.
Fifth-year guard, Tony Delk? Fifty minutes, 27 shots and 53 points.
Huh?
Amidst an otherwise humble career, Delk put together one of the best games in the modern NBA. A game that even still stacks up among the greatest of all-time. For one night, the journeyman reserve guard stood atop the NBA planet.
But where did it come from?
[php snippet=1]
After taking "Mr. Basketball" for the state of Tennessee as a high schooler, Delk went on to a highly successful collegiate career at the University of Kentucky. Playing for Rick Pitino, Delk and the Wildcats won an NCAA championship in 1996. That summer he would go on to be drafted 16th overall to the Charlotte Hornets and begin his NBA voyage.
It's hard for even the most optimistic of NBA fans to look at Delk's 10-year NBA career and consider it anything more than average. Throughout his entire time in the league he never quite found a place to call home; in fact he was more of a rent-a-player. In 545 career games, Delk played for eight different teams, never playing as much as two full seasons with any individual team.
During his travels throughout the Association, Delk was never a full-time starter either. In 2002-03, he logged a career high for games started (39) and minutes per game (28.0), but otherwise was used primarily as a backup guard and spot starter.
Delk was used this way for basically his whole career, including the majority of time he spent with the Phoenix Suns, despite that it was here where he made history.
In a career full of constantly changing uniforms and cities, Delk found some measure of consistency with the Suns. He played more games with the Suns than any other club (22.5% of his career) and played in all 82 games in the 2000-01 season.
Very much in line with the rest of his career, when the Suns signed Delk in 2000, his role was to help add depth to an already impressive roster. The Suns already had veteran guards Jason Kidd and Mario Elie in place, and Delk was to be a reserve guard capable of providing a spark off the bench when necessary. He did just that and did it well.
Delk and the Suns operated at status quo until Dec. 13, 2000 when Elie broke a bone in his left hand, forcing him to miss 10 games. With Elie's starting spot vacant, the club turned to their journeyman back up.
With the increase in playing time, Delk's overall production and scoring rose, reaching a high of 26 points in a win against Denver on Dec. 23… until that fateful day in January, of course.
Prior to Delk's 53-point outburst, in 248 games he had only scored 20 or more points 16 times. Simply put, to call his 53-point anomaly an "explosion" would be like calling Shawn Marion's shot ugly; an understatement.
Putting the monster game into more of a historical perspective, not only was it an extremely rare blip on the radar screen of Delk's career, it was also one of the most efficient 50-point games in NBA history.
Consider this: since 1985, only five other players have scored 53 points on 27 or fewer shots, the way Delk did. The other five to do so? Michael Jordan, Karl Malone, Dominique Wilkins, Glen Rice and Willie Burton.
The only other players to score 53 or more points, shooting 27 or fewer shots and not hitting a single three pointer? Michael Jordan and Karl Malone, two of the all-time greatest.
After the 53-point gem, Delk quietly faded back into the background of the rest of the season's box scores. After all, it wasn't long before Elie returned to occupy the minutes Delk had been filling in for since Dec. 13.
Delk topped 20 points five more times that season, but never more than 23. Over the course of the next five seasons, in which he donned four more jerseys, he never finished with more than 27 points.
Though he himself won't go down in the record books for anything more than that one particular game, Delk's 53-point blessing is proof to all that on any given night, if given the opportunity, any NBA player can make history.
[php snippet=1]