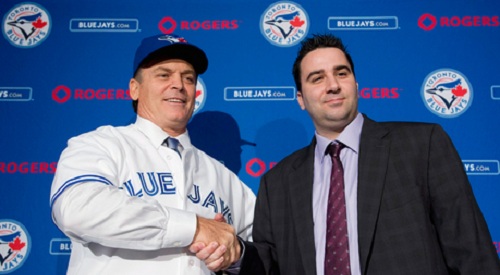 Driving up the interest while driving down the odds
November 21, 2012
If you haven't become sick of hearing about the Toronto Blue Jays by now, they sure as hell are going to get you to that point soon. You know about the trade with Miami, the signing of Melky Cabrera and now the re-hiring of John Gibbons as manager, but have you checked out the Blue Jays on the betting lines lately?
You can look into the sports betting options at various sites across the world, and thanks to the magic (or blatant thievery) committed by GM Alex Anthopoulos, see that the Blue Jays are a team worth checking out.
It's a true worst-to-first scenario for Toronto, who, despite a rash of major injuries to significant players, managed to finish fourth in the AL East last season. Now, they look stronger on paper than even the mighty New York Yankees (and even the upstart Orioles, for those of you who believe last season wasn't built on smoke and mirrors). The Blue Jays have improved their odds of winning the World Series from as far as 100/1 or worse to 11/1 or better, depending on where you look.
You may be wondering what the betting lines have to do with Toronto. After all, it's the players who affect the outcome of the game, not the two bucks you have riding on it, right? Well, sort of.
[php snippet=1]
Maybe you've heard of former NBA ref Tim Donaghy, who was sentenced to 15 months in jail for betting on games in which he officiated. Maybe you've heard of Declan Hill, who is an expert and preeminent voice on match fixing in international sports; soccer in particular. You've certainly heard of Pete Rose, who is "permanently ineligible" for the baseball Hall of Fame for betting on MLB games while he was a player and manager.
Betting is a major part of sporting culture. Don't think that the NFL would be anywhere near as popular as it is without fans having a vested interest in the winners and losers. Players and teams aren't "favorites" because you love them; they're so because that's what the oddsmakers have designated them as.
Legal or not, millions of people put their hard-earned money on the line, hoping to see a favorable outcome, at least by their now-biased standards. Let's face it; you're not interested in next Monday's NFL game between the Panthers and the Eagles – even if you're from Charlotte or Philadelphia. Put $5 on the game, however, and you'll be glued to your seat from the opening kickoff to the final whistle.
Ultimately, betting lines also help to build hype around an event. Sure, anticipation for random game 52 on the MLB schedule is hardly noteworthy, but other sports can be largely influenced by the potential for greatness. Just look at the recent UFC cards. Prior to last Saturday's UFC 154, many main event fights were so one-sided that few took notice – and the PPV numbers reflect that. Oddsmakers tried to compensate by shifting the betting lines, but that did little to drive people to the bars or their television sets to watch.
Then Georges St-Pierre returned to the octagon and the betting world exploded. With all the variables considered – champion vs. interim champion, St-Pierre's "rust," virtually even betting lines, etc. – this fight wasn't just a great storyline, it was a bettors dream. You could even put money on how many people would buy the PPV.
There are plenty of other examples of where betting on an outcome increases interest: the Super Bowl, the World Cup, even March Madness. You, like millions of others, probably watched game after game of college basketball last March, scribbling in teams whose mascots you still haven't memorized on your bracket, but don't pretend like you were still around for the Elite Eight, when seven of your picks were eliminated already.
Maybe you didn't bet any money on March Madness, but you created interest for each game by – for whatever reason – picking a team you wanted to win, and it's interest like this that feeds your passion for sports.
And if it's not you with your money on the line, it can be just as captivating to watch somebody else try to strike it rich. How else can you explain the myriad of poker shows that dominated the airwaves during the 2004-05 NHL lockout? You know you watched them (I'm looking at you, Canada).
Fast forward and you'll see Gary Bettman and the NHL claiming to be opposed to the legalization of single-event sports betting in Canada, saying that the "integrity" of the NHL is dependent upon its popularity. They say this as if to suggest that legalized sports betting threatens hockey's integrity when, in reality, the opposite is true (and who are they to even be talking about integrity and popularity right now?)
The fact is that sport betting gets people involved, and there's no argument to be made against that. Whether it's a mid-January NBA game or a competitive fantasy sports league, there's always an increased amount of excitement (or pressure, tension, angst, whatever) when your money's on the line.
And that brings us back to the Blue Jays. Before the trade – and yes, this is officially a new era in Toronto – there was little interest to be found in the team outside of the city. The only people willing to bet on the Blue Jays would either be crazy, or rich, or crazy rich.
Now, they're one of the hottest topics going. To use the latest buzzword, the Blue Jays are trending just about everywhere you look, and that includes gambling websites.
And if Toronto gets off to a poor start, you'll probably be able to bet on how many bones will be broken as legions of bettors fall off the various bandwagons.
Blue Jays fans are looking forward to healthy appearances of every starting position player (Edwin Encarnacion was the only one to not miss a significant amount of time last season, save the recently-departed Yunel Escobar). With the additions of Jose Reyes, Josh Johnson, Mark Buehrle, Emilio Bonifacio and Melky Cabrera, Toronto is certainly a team worthy of playoff consideration – and your gambling money.
If you're one to play the long shots, let's hope you placed your dollars on Toronto before Nov. 13 when the odds against them were astronomical. If so, try to contain your excitement throughout the summer; at least to spare those of us who didn't have the foresight to see this coming.
Oh, and feel free to buy a round for us after you collect enough winnings to retire on.
[php snippet=1]
***