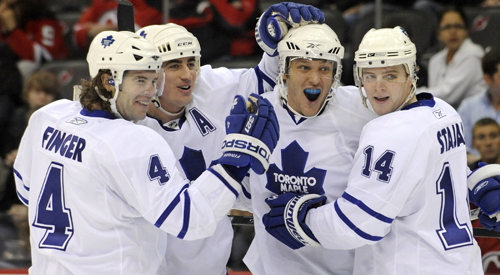 The Leaderless Leafs
September 21, 2009
In the latter half of the 2007-08 NHL season, long-time Toronto Maple Leaf captain Mats Sundin had a couple of opportunities to do right by his hockey club. Depending on what you consider to be noble – standing by your team or gracefully stepping down – Sundin had the chance to do each, but instead, opted to do neither.
Just prior to the 2008 trade deadline, former Maple Leaf general manager Cliff Fletcher quietly asked Sundin to wave his no-trade clause in an effort to garner some promising prospects as part of a pivotal attempt to re-build the faltering Toronto franchise.
Sundin wouldn't go.
Instead, the veteran centreman cited his contentment with the Leafs and, after playing for the team for 13 seasons, his desire to retire as a Toronto Maple Leaf.
That didn't exactly happen either.
So, at the end of the day, where did this leave the Leafs? Trading Sundin would have in all likelihood been the jump-start the franchise needed to begin their climb back to fruition. While that wasn't the case, having Sundin finish his career in Toronto would have at least made the pill easier to swallow.
However, when he opted to head out west and play for the Vancouver Canucks, things got a little sticky.
[php snippet=1]
"I think it's easy to say Mats was being selfish, but in turn recognize that he earned that right," said Grant Tomkins of Pension Plan Puppets. "He had a no-trade clause in his contract, and he exercised his right to use it. His reasoning for using it, although at the time seemed honourable, was flimsy at best.
"In the sense of the rebuild, the team was definitely put on the slow track. At the time, the potential return on Mats was amazing () For purely sentimental reasons, it would have been nice to see Mats come back and retire as a Leaf."
Enter the 2008-09 NHL season and enter the post-Mats Sundin era in Toronto. After serving as the club's captain for over a decade, not having him around anymore was a bit of an adjustment for both the team and the fans.
"Mats Sundin carried the Leafs back to the heights of respectability," said Tomkins. "(Their) late-90s and early 2000 teams were impressive. He put up with line-mates like Jonas Hoglund and yet still managed to put up lots of points and make the Leafs a competitive team. When it comes to skill, there's no doubt Mats had enough to spare."
Losing Sundin was like cutting the head off a chicken, as the Leafs were left running around aimlessly with no sense of direction or sustainable goal in sight. There is always going to be an adjustment period when a player who serves as captain for as long as Sundin did is removed from the equation, however it didn't have to be such an obvious void had the Leafs had a suitable replacement.
"Mats, as captain, was always an eloquent and well spoken captain, good with the media and vocal on the ice," said Tomkins. "Now, (the Leafs are) left with guys like Matt Stajan and Tomas Kaberle – neither of which are very vocal or particularly "tough" to play against physically. That physical edge is where the leadership void is most evident."
The Leafs would play the entire 2008-09 season with three assistant captains, and are still yet to name Sundin's successor. Toronto didn't exactly have the most memorable season in 2008-09, and one can't help but wonder if the inability to find a leader amidst the array of blue and white is what held them back.
"The 2008-09 season made it quite apparent that there was no vocal leader on the Leafs," said Tomkins. "The trade for Brad May was probably made just to give the (young players) who could one day be captain material a template to build off of. Guys like Stajan and Kaberle were not getting it done.
"On the ice, there certainly was a fire missing on a lot of nights. Whether that was a result of leadership or, as head coach Ron Wilson has alluded to on multiple occasions, fitness, is beyond me. Being used to a team that at one point had Gary Roberts, Tie Domi and Darcy Tucker playing for them, fans have gotten used to a smash mouth style of leadership. As to why the Leafs didn't name a captain, I think it's quite obvious: no one is currently worthy of wearing the 'C'."
With the 2009-10 NHL season now just around the corner, Leaf fans are again left to wonder if the team will finally name a successor to Sundin or if they will give it another go with only alternates. If the former should be the case, what player on the Maple Leaf roster presents himself as a viable option?
"I don't believe the Leafs are in any particular hurry to name a captain," said Tomkins. "Some of the new guys could be far more effective alternates, but I still don't see a captain amongst them.
"I think Luke Schenn is being groomed for the 'C', and he, along with Nazem Kadri, will be (Toronto's) go-to guys for years to come. Kadri has some experience with leadership, and the stories I've read on the guy seem to indicate he'd be just as capable of wearing the 'C'.
"I think that Schenn is a franchise player. He's a guy who will be a cornerstone to the organization, hopefully for many years to come. He was by far one of their best players last year, and he's only going to get better. With the added experience and muscle surrounding him, this season could be a real break-out affair for him. He won't put points up in bushels, but he'll control the game's flow in a far more commanding manner."
Will another leaderless season garner results that are all-too-similar to last year's lacklustre campaign? Do the Leafs currently have a player on their roster who can step up and take the team under his wing? Both are very intriguing questions, however, the answers may be much more complicated than Leaf fans would like to admit.
"Ron Wilson and (general manager) Brian Burke need someone who can put into practice the style of game they're selling. Currently, when I look at the Leafs, I see a mish-mash of forwards; kids and journeyman, with the occasional key depth forward. Niklas Hagman and Alexei Ponikarovsky in particular don't really instil any particular identity. Hard-working perhaps, but that won't be enough to get the Leafs back into the playoffs.
"You look at Burke's last two teams, Anaheim and Vancouver, and their captains were the epitome of on-ice work ethic. Markus Naslund and Scott Niedermayer were always moving, always battling, but were never bigger than the team. They were quiet guys who knew their roles and what had to be done to win. I can see Schenn as the captain a few years down the road, and would be in no particular hurry to slap a 'C' on someone else until he's ready. It seems the team will be built for him to captain and, call me sentimental, but I think the honour of the 'C' on an original six team is too important to not wait until the time is right, and the right person is ready and able to lead."
[php snippet=1]