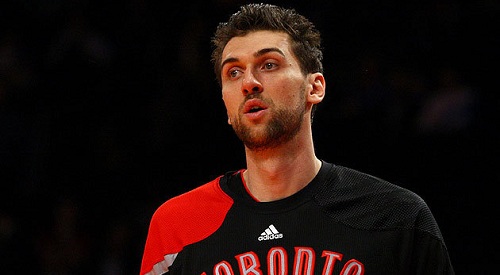 Cracking up
December 17, 2012
It wasn't long ago when Toronto was called, in some corners, a playoff-capable team. And then the season started. Things have not been well in Toronto, a city where expectations aren't ever especially high for the Raptors.
Last season, the Raptors finished with 23 wins thanks to one of the league's worst offenses. The year before, they finished with 22 wins and finished with the league's worst defensive rating: 112.7. This season seems like a combination of the two: four wins thus far and they rank at the bottom at both ends of the floor. Things are ugly and they got that way in a hurry.
Toronto opened the season with two losses and dropped six of their first seven. Despite the current two-game winning streak, the Raptors have made an art of losing, finding new and interesting ways to come out with the lower score. They've lost games at the buzzer and others by 30 points. They've lost games when an official missed an obvious foul and another after posting a near-miraculous comeback in the final minutes.
It's gotta be frustrating. And it got worse thanks to a widely-reported story from Friday.
In an interview with La Gazetta dello Sport, a frustrated Andrea Bargnani lashed out at the team: "We are the worst in the NBA," reads one translated quote. "It's a tragic thing, from whatever side you look at, it's a desperate situation."
His words are harsh and maybe a little accurate.
There's only one problem. Bargnani claims he didn't say them. On Saturday, he addressed the Toronto media to clarify, saying he never called the team the worst and threatened legal action.
[php snippet=1]
But it jives with recent leaks from inside the team: after a blowout loss to Utah, the Raptors held a team meeting and Bargnani took the brunt of his teammates criticism. And with a heavily reported trade proposal – Bargnani and Jose Calderon to the Los Angeles Lakers for Pau Gasol – these are trying times for Il Mago. The team that drafted him first-overall in 2006 and handed him a five-year extension in 2009 doesn't want him anymore. And maybe no team in the NBA does.
It was hard to see this coming. Despite injuries limiting him to just 31 games last winter, he looked like he was maturing as a player. His assist rate was at a career high, his rebounding was up and he set career highs in PER and Win Shares per 48 minutes. He wasn't a much better player, but he'd become a more efficient one. On a team that regularly slowed the ball down and used fewer possessions, this was important.
But this year, his role has changed. Last season, he spent 30 percent of his time playing center. With the addition of Jonas Valanciunas, Toronto doesn't need him at the five spot as often. This year, he's spending most of his time at the four, a position he's not great at. He scores less and is scored on more often.
Indeed, the addition of Valanciunas has made the Raptors frontcourt all the more crowded. Now him, Bargnani, Amir Johnson and Ed Davis are splitting minutes, at least until injuries and suspensions claimed Bargnani and Johnson. Hence their eight-man lineup against Brooklyn last Wednesday.
That game could've been the low point for the Raptors this year. They'd just come off a swing across the west coast, losing every match of the road trip. They were shorthanded: Johnson was suspended for throwing his mouth guard at a referee and both Kyle Lowry and Bargnani were injured. This pushed both Davis and Calderon into the starting lineup for the first time this season. True, the Raptors lost for the 19th time (and blew another halftime lead to boot), but the unlikely starters' play was a rare bright spot.
In only his second start of the season, Davis shot 11 of 13 for 24 points and picked up 13 rebounds. In his eighth start, Calderon scored 10 points and had 15 assists.
This could be a watershed moment from the team: although Lowry is the de-facto point guard, he's sometimes struggled to make his teammates better. He's had just one double-digit assist game this season. And, like Bargnani, he was reportedly criticized in that meeting after Utah, too. Remember: all the plans to move Bargnani hinge not on the center, but on the pieces said to accompany him. Calderon is the name most often invoked and the better he plays, the more attractive he'll look to teams like the Lakers.
As for Davis, his increased minutes might be the remedy for Raptor frontcourt woes. Despite limited minutes, he's statistically one of the best Raptors. He leads the team in rebounding, especially on the offensive end, is one of their most efficient scorers: he's leading all regular players in measures like True Shooting and Effective Field Goal percentage. He's also standing out in Win Shares per 48 minutes and PER.
What's more important though is Davis's defense. He's arguably the team's best defender with a defensive rating of 104. In Wednesday's loss, the Nets were held under their scoring average this season. This has more than a little to do with Ed, especially thanks to the short Raptors bench: against Davis, the Nets scoring drops by nine percent. With him on the bench, it increases by nearly 30.
More evidence came on Friday night against Dallas. The Raptors dominated on the boards and held Dallas to 74 points, the fewest they've scored this year. It wasn't just Davis (who still had a nice night, shooting .600 and grabbing eight boards). Parts as diverse as Linas Kleiza and Terrence Ross stepped up, having their best games of the season.
So, with the season not even two months old, the Toronto Raptors have sunk all the way down the NBA's standings. They have the most losses in their conference and one of the lowest Simple Rating System numbers in the NBA. Their biggest addition of the year is hurt and they likely won't have a first-round pick this spring, as it's only protected if the Raptors select first-through-third-overall.
But maybe they've already hit bottom. Maybe more minutes for Davis and Amir Johnson are part of the solution to an anemic team. Maybe they'll even find a team wanting Bargnani. Sure, he might've been misquoted but the lines weren't far off: they are the worst team in the NBA. Thankfully, there's nowhere to go but up.
[php snippet=1]