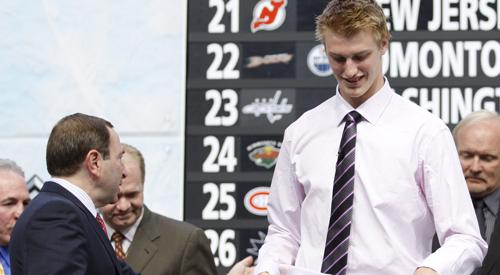 Tyler Myers: Tower of Power
May 26, 2009
Compared to the thousands of kids who grow up playing hockey in Canada, an increasing number of American players in the NHL don't know what it's like to live in a town or city without the sport as the number one thought come winter.
Kelowna defenseman Tyler Myers is an example of the latter having grown up in the non-hockey community of Houston, Texas. But when the Myers family moved to Calgary at the age of 10, his whole perspective of hockey drastically changed.
"There are two teams and three million people in Houston," said Myers. "And you get to Calgary, and there are 13 (teams) just in one community."
The change was just what Myers needed to perfect his skills as a defenseman on his way towards joining the WHL's Kelowna Rockets as a 16-year-old.
Now, after three full seasons with Kelowna in which he's racked up 76 points and over 280 penalty minutes as a shut down defenseman, a World Junior gold medal with Canada, and a new three-year entry-level contract with the Buffalo Sabres, the 6'7″ Myers is becoming a household name.
In the midst of a spectacular playoff run, which included knocking off the number one overall team in the CHL (Calgary Hitmen), many were surprised at the timing of the contract, but Myers was relieved to have it signed and out of the way.
[php snippet=1]
"We went through negotiations throughout the playoffs, and it feels good to get it done," he said. "But obviously the focus right now is the Memorial Cup final."
Now that the Memorial Cup is done, however, that focus will change to preparing for Sabres rookie camp, which typically starts at the beginning of July.
Whispers are starting to circulate that with the contract now signed, the Sabres are going to seriously consider having Myers on the opening day roster, especially since one of their biggest downfalls last season was their lack of defensive defenseman.
Myers feels like he's on the right track, taking it upon himself to further prepare for the step to the NHL.
"I don't think I need to change very much," he said. "I got a new trainer last summer, and had a great training program. I'll stick to that one this off-season and hopefully I'll put on some pounds going into camp."
Sabres General Manager Darcy Regier agrees with Myers and has done nothing but praise the 19-year-old.
"He is a big, strong player who has excellent hockey skills," said Regier in a conference call after the deal was completed. "We're glad to have him signed and look forward to his continued development both on and off the ice."
This has Myers excited, and the defenseman feels that he has a legitimate shot of making the team, providing he does everything on the ice that's gotten him to this point in his career.
"I'm not going to worry about what they're thinking when I go into camp," he said. "I'm just going to go in there and do my best and whatever they decide I'll accept."
Sabres fans are hoping that they decide to keep this Zdeno Chara-esque defenseman, hopefully one day guiding them back to the playoffs to compete for the Stanley Cup.
[php snippet=1]