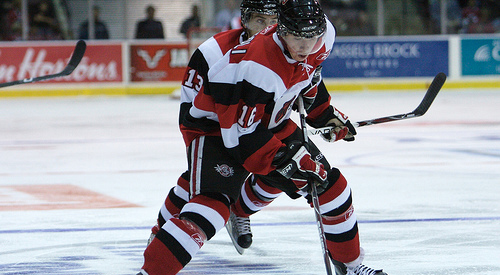 Tyler Toffoli: The Total Package
December 11, 2009
At this time of year comparisons run ramped in the NHL.
With a new crop of draft picks heading into the NHL entry draft, every hockey fan is looking for a current NHLer to compare their team's next pick to. Ottawa 67's winger Tyler Toffoli hasn't modeled his game after any specific player, but already has put a heavy weight on his shoulders.
"There are a lot of people that I'm compared to," says Toffoli. "But I like to compare myself to (Dany) Heatley, but with a little more playmaking."
In his sophomore season in the OHL, Toffoli has 17 goals and 32 points in 27 games for Ottawa. Those numbers were good enough to earn him OHL and CHL player of the week honours for the week ending November 22.
His style of play got himself a chance to play at the 2009 Ivan Hlinka Memorial Tournament over the summer. As a member of the gold medal winning team, Toffoli had three goals and eight points in four games.
"The whole team came together and we gelled like a family and it showed in the games," said Toffoli.
He added to his international playing experience by playing in the Canada vs. Russia Subway Super Series, where he had two goals in two games. Despite his success in the challenge, Toffoli wasn't invited to Canada's World Junior selection camp taking place this December, but he knows eventually that his time will come.
[php snippet=1]
"I thought I had two good games at the Canada Russia challenge, but I'm not too worried about it," he said before the roster was announced. "If I get invited then I'll be really happy, but I know I have two or three more years to make the team, so I'm not too worried about this year."
Playing for the 67's, Toffoli has had a lot of mentors helping him with his hockey career, from his former roommate Thomas Kiriakou, to 67's General Manager and Hockey Hall of Famer, Brian Kilrea, who was Toffoli's coach during his rookie season.
"He is a legend of a coach," Toffoli says of Kilrea. "It was a lot of fun."
Toffoli has matured enough over his two seasons in the nation's capital and one under Kilrea that he has now adapted into a leadership role on the team. He helped the 67's first-round pick from the 2009 OHL Priority Draft, Cody Ceci, adapt to life in junior hockey.
"I told him about the Under-17, and how things went for me, what goes on, how to earn your ice time and little things on how to help your teammates out," said Toffoli.
The 17-year-old Scarborough native also helps out teammates on the ice, as evidence of his fight earlier this season with Sault Ste. Marie Greyhounds forward Vern Cooper.
"[Cooper] hit one of our players from behind and I asked him to fight, so we did," said Toffoli. "I like to stick up for my teammates."
But his bread-and-butter will always be goal scoring, which is what he continues to work on to impress the scouts for the upcoming NHL Entry Draft in June.
"I'm focusing on my hockey and trying not to think about all the media stuff," said Toffoli. "That will all come closer to draft day. I'm just trying to work hard and have a good season."
A good season could force the youngster to have to start worrying about all the media attention that is set to be put upon him.
[php snippet=1]