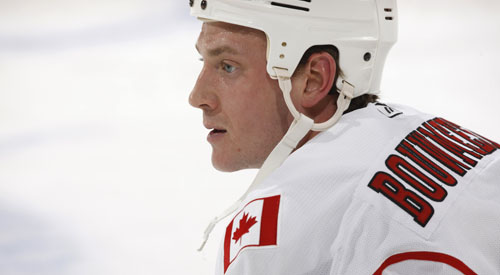 Hockey Canada's unwanted
February 8, 2010
Mike Green currently leads all National Hockey League defencemen with 54 points, yet he is not one of the seven d-men heading to B.C. to participate in the Vancouver 2010 Olympic Winter Games.
A player who had a breakout year last season, garnering a career-high 73 points and earning himself a nomination for the Norris Trophy, the Calgary, Alberta native was nowhere to be found when Team Canada Executive Director Steve Yzerman announced his long-awaited list of 23 players who will take the ice in Vancouver.
How could Yzerman make such a glaring omission? Well, the problem with that question is that it begets a domino effect of a multitude of questions to follow.
Where is Jay Bouwmeester, and for that matter, Dion Phaneuf?
Surely, Drew Doughty, at 20 years of age, is much too young to be an Olympian.
Patrice Bergeron wasn't even invited to orientation camp yet he's cracked the roster while former Olympians Martin St. Louis, Vincent Lecavalier and Ed Jovanovski were conspicuous by their absence.
Canadians from coast to coast spent the latter portion of 2009 constructing their ideal Team Canada rosters, but at the end of the day, only a handful of individuals actually selected the team and had the final say on who is going to do battle and who is staying home.
[php snippet=1]
"I'm very honoured to have a chance to go," said Pittsburgh Penguins goaltender Marc-Andre Fleury, who will be getting his first taste of international play at the senior level in Vancouver. "I think no one in Canada expects less than gold, so we're going to try to bring that in. I'm looking forward to getting it started."
While the French-Canadian backstopper is one of the lucky ones, there is a plethora of talented Canadians who have had to face the disappointing reality that they were deemed unworthy of the Olympic club.
"You don't really say you expect anything," said Calgary Flames defenseman Jay Bouwmeester when asked if he expected to be on the roster. "Like anyone, I would have loved to have been picked, but that's just the reality."
The problem if you want to call it a problem lies with the nation's rich talent pool. It's not so much that players like Bouwmeester who competed for Team Canada at the 2006 Winter Games in Turin are poor players or are incapable, it's quite simply that those selected were deemed to be a better fit for this particular hockey club.
Take Chicago Blackhawks defenceman Brent Seabrook for example. How many people believe that he would still be on the Olympic team if it weren't for Blackhawk teammate Duncan Keith's inclusion? In an international tournament, more often than not, it's the team that gels together the quickest that succeeds. Therefore pairing players together who possess pre-tournament chemistry can go a long way towards a team's performance.
"Canada has a lot of good players, and there's a lot of good players on our team," said Bouwmeester. "That's just what comes with being from Canada when you're dealing with hockey."
A player who many Canadians were pointing to as a sleeper pick was Tampa Bay Lightning forward Steve Stamkos, whose impressive start to the 2009-2010 NHL season had many heads turning.
"It's a tough team to make, especially when you're 19," said Stamkos, who has been a point-per-game player in this, his sophomore NHL season. "Realistically, I didn't think I'd make it. There are so many good players, especially when you're dealing with Team Canada."
A technicality that may have hindered Stamkos' chances at cracking the Olympic roster is Canada's depth at the centre position, as the Canadian contingent can provide top-notch centremen in spades.
"You never know," said Stamkos about the possibility of his chances increasing were he a winger. "I can't really dig into that scenario [because] I play centre. Sure there are a lot of great centreman so who knows if I were a winger, but [] there's so many great players who've had past experience, especially at events like [the Olympics]."
Is Team Canada's 2010 Olympic roster of the highest quality possible? Does Canada's team possess a gold medal-winning formula?
"It is what it is," said Bouwmeester. "I would've loved to be there, but there's nothing you can do about it."
"They're going to go with the guys they think they can win with," said Stamkos. "That's the reality you have to live with."
Indeed Canadians can do little but hope that when the final buzzer sounds in Vancouver, O Canada' will be played and their elite group of 23 will have gold hanging around their necks, proudly resting atop the maple leaf of their battle-worn jerseys.
Then, and only then, can Yzerman put his hands behind his head, feet on the table, and bask in a job well done.
[php snippet=1]