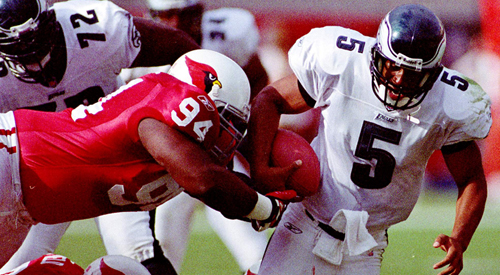 Is Michael Vick's signing a message to Donovan McNabb?
August 17, 2009
The signing of Michael Vick by the Philadelphia Eagles came as a bit of a surprise to most football fans.
While it had been widely reported that Vick would be back in the NFL – with the Pittsburgh Steelers and New England Patriots being floated as his two most likely destinations – few would have ventured a guess that he would end up with the Eagles.
And with good reason. The Eagles already have a quarterback with a similar skill set – fairly mobile with a good arm – and despite the claims of Andy Reid, will likely only cause a stir in camp.
Granted, if a player of Vick's talent becomes available, most teams would be smart to make a run at him. But in the Eagles case, does it really seem to make sense?
For the past few seasons, Donovan McNabb has helmed an underwhelming Eagles team that's made the playoffs twice in the past four. They've fluctuated wildly on the offensive side of things: in 2005 and 07, they ranked 18th and 17th in points scored but in 2006 and 08, they ranked sixth.
This isn't exactly the fault of McNabb, who has slowly changed from a scrambling QB to a more of a west-coast-offense style passer. This past season, he set career highs for yards (3916), completions (345) and came close to matching his touchdown high with 23.
[php snippet=1]
In a sense, he's looked like he's reinvented himself as a passing quarterback and a fairly decent one at that. He ranked fifth in pass completions last season, seventh in passing yards and eighth in touchdowns – falling just behind Peyton Manning and ahead of Matt Cassel in each category. He wasn't exactly in lofty territory, but was still in the top tier of quarterbacks.
In his nine seasons with the Eagles, McNabb has led them to one Super Bowl (2004) and four conference title games (2008, 2003, 2002 and 2001). He's proven that he can lead the team deep into the playoffs but not to a Super Bowl win.
In 2004, his best statistical season, McNabb took the Eagles to the Super Bowl with wins over Minnesota and Atlanta but lost to New England, 24-21. It was his watershed season – Terrell Owens had yet to cause the Eagles to self-destruct and McNabb meshed well with him and running back Brian Westbrook.
Since then, McNabb endured criticism from an explosive TO, surgery for a sports hernia and a revolving door of receivers, Kevin Curtis, DeSean Jackson, et al. The only constants have been Westbrook and McNabb.
So could the signing of Vick be a herald to the end of McNabb's run as the Eagles' QB? Signing a quarterback that runs as often as Vick doesn't make sense for the Eagles. Last year, McNabb rushed for only 146 yards, by far the least he has in a full season. Remember, the wildcat isn't just a single play – if it were, every team would run it and it would never work. It's a system that throws off the defence and opens a hole for the quarterback (or running back) to get into the secondary.
However, with nearly two years spent in jail, does Vick still have that athletic burst in him?
Perhaps this signing isn't meant as a shift towards the wildcat or quarterback draws or anything. Is it possible that this move was meant as a sideways glance at McNabb?
Vick himself likely isn't going to replace McNabb, but Reid's willingness to bring another QB in to compete with him doesn't seem to bode well for his long-term prospects. Remember, McNabb was benched last season during a game against the Ravens. It wouldn't be the first time that Reid has sent a message to McNabb.
But there's a message to Vick here too. While he isn't eligible to play for a good chunk of this season – he may not be reinstated until week six – he is eligible for the remaining preseason games. His performance in them may well decide his future not just with the team, but in the NFL.
Next Thursday's game against the Colts should prove to be one of the more interesting preseason games in recent memory.
[php snippet=1]